Aromatic beef curry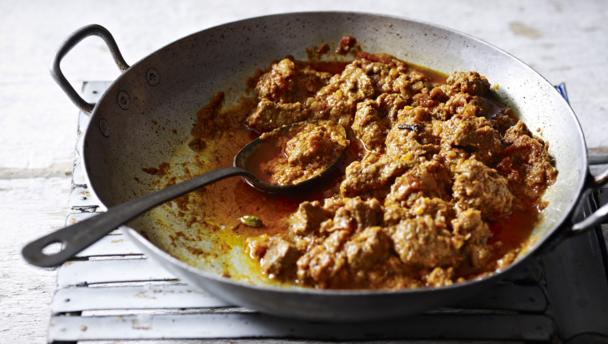 Preparation: less than 30 mins
Cooking time: over 2 hours
Serves 4
Ingredients
125ml/4fl oz ghee or vegetable oil
400g/14oz beef braising steak, diced into 3cm chunks
1 medium onion, diced
2 garlic cloves, finely chopped
1 tsp ground cumin
1 tsp ground coriander
1 tsp ground turmeric
1 tsp ground black pepper
1 tsp chilli powder
½ tsp ground ginger
3 cloves
3 cardamom pods (optional)
½ tsp ground cinnamon
½ x 400g/14oz can chopped tomatoes
125g/4½oz natural yoghurt
1 tbsp vinegar
salt
pinch sugar
Method
Heat a lidded frying pan over a medium heat and add the ghee or oil. Fry the meat until lightly browned on all sides, then remove from the pan with a slotted spoon, cover and set aside.

Add the onion and garlic to the pan and fry over a low heat until soft. Turn the heat up slightly, add the spices and fry for 1 minute, they should start to smell aromatic, without burning.

Return the beef to the pan, add the tomatoes and bring to the boil. Take the pan off the heat and stir in the yoghurt and vinegar, then season to taste with the salt and the sugar.

Return the pan to the heat, bring back to the boil and simmer, covered, for 1½ hours, or until the meat is tender.
Tips
The curry could alternately be cooked in the oven from the end of step 3 onwards: simply preheat the oven to 190C/375F/Gas 5, then pour the contents of the pan into a lidded ovenproof dish and cook for 2 hours with the lid on, until the meat is tender.