Chicken tagine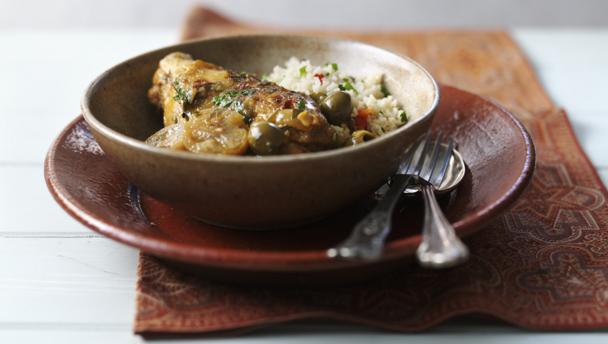 Preparation: less than 30 mins
Cooking time: 30 mins to 1 hour
Serves 4
Ingredients
125g/4½oz green olives
100ml/3½fl oz olive oil
1 large onion, chopped
4 chicken breasts
2 garlic cloves, chopped
1 tsp ras-el-hanout (available in some supermarkets or specialist shops)
½g saffron threads
1 tsp ground ginger
1 tsp freshly ground black pepper
1 large preserved lemon, peel only, chopped
3 tsp chopped fresh coriander
1 tsp chopped fresh parsley
vegetables, to serve
Method
Heat the olive oil in a heavy saucepan. Add the onions and fry gently, stirring frequently until they are soft and translucent. Add the chicken breasts and fry for a minute or two. Add the garlic, ras-el-hanout, saffron, ginger, and pepper and fry for 2-3 minutes until golden. Add the preserved lemon, coriander, parsley and the olives.

Add enough water to just cover the chicken, then bring to the boil. Reduce the heat, cover and simmer on a low heat for about 35 minutes.
Tips
For gluten-free diets try serving the tagine with brown rice instead of couscous.