Chickpea curry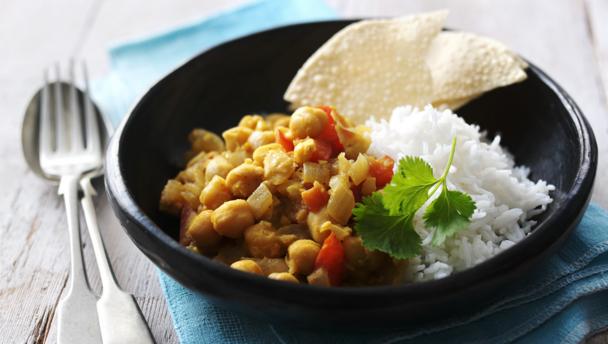 Preparation: less than 30 mins
Cooking time: 10 to 30 mins
Serves 2
Ingredients
1 tbsp oil
1 onion, chopped
1 garlic clove, crushed
¼ tsp salt
½ tsp cumin powder
¼ tsp coriander powder
¼ tsp turmeric powder
¼ tsp red chilli powder
1 fresh tomato, chopped
400g tin chickpeas, drained and rinsed
5cm/2in piece root ginger, grated
pinch of garam masala
pitta breads or plain basmati rice, to serve
Method
Heat a deep lidded saucepan or a medium sized wok and add the oil. Fry the onions and garlic, until the onions are caramelised

Add the salt, cumin, coriander, turmeric and red chilli powders. Mix for a minute and tip in the tomato. Cook the sauce until it begins to thicken.

Add 4 tablespoons water and stir. Then tip in the chickpeas and mix. Mash a few of the chickpeas while cooking. Cover and simmer for 5 minutes. Then add the ginger and the garam masala. Cook for another minute.

Serve with pitta breads or plain basmati rice.