Slow cooker chickpea tagine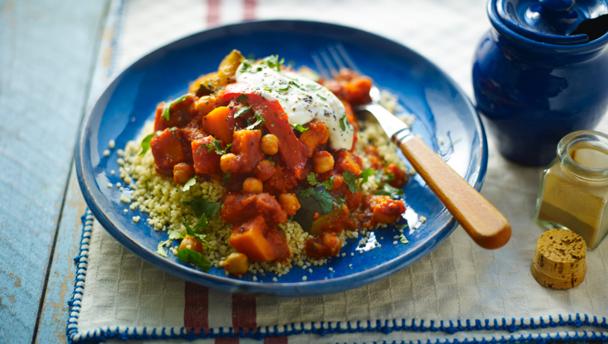 Preparation: less than 30 mins
Cooking time: over 2 hours
Serves 4
Ingredients
400g/14oz can chickpeas in water, rinsed and drained
1 red pepper, deseeded and thickly sliced
1 onion, chopped
1 small butternut squash, peeled, deseeded and cut into bite-sized pieces
2 courgettes, cut into bite-sized pieces
12 dried apricots
salt and freshly ground black pepper
2 tbsp extra virgin olive oil, plus a drizzle to serve
2 garlic cloves, crushed
2 tsp paprika
1 tsp ground ginger
1 tsp ground cumin
500g/1lb 2oz carton passata
2 tsp honey, plus a drizzle to serve
1 tsp harissa paste
handful fresh mint or coriander
thick Greek-style yoghurt, to serve
Method
Place the chickpeas, pepper, onion, squash, courgettes and apricots into a slow cooker and season with salt and freshly ground black pepper. Heat the oil in a frying pan, then fry the garlic and spices until fragrant, about one minute. Add the passata, honey and harissa, then bring to a boil.

Pour the sauce over the vegetables, cover with the lid and cook on high for four hours.

Season to taste with plenty of salt and freshly ground black pepper. Tear in most of the mint or coriander leaves, stir through, then scatter the remaining leaves over the top. Drizzle with a little more oil and honey, then top with spoonfuls of yoghurt. Serve with couscous.