Speedy miso noodles with soft boiled egg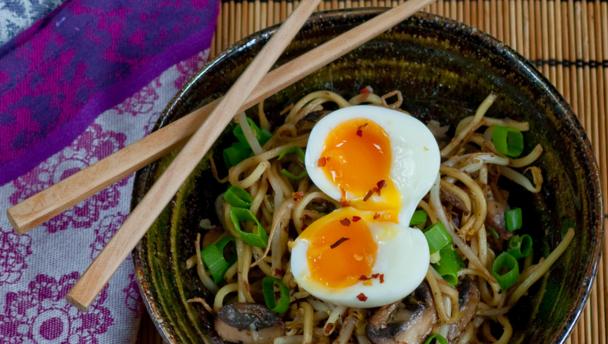 Preparation: less than 30 mins
Cooking time: 10 to 30 mins
Serves 1
Ingredients
1 free-range egg
1 tbsp groundnut oil
50g/1¾oz chestnut mushrooms, sliced
2.5cm/1in piece ginger, grated
½ small garlic clove, grated
pinch chilli flakes
2 spring onions, sliced
1 handful beansprouts
1 tsp brown miso paste
1 tbsp light soy sauce
100g egg noodles, cooked to packet instructions
sea salt and freshly ground black pepper
Method
Bring a small pan of water to the boil and gently lower the egg in. Set a timer for 6 minutes.

Meanwhile, heat the groundnut oil in a wok over a medium to high heat, add the mushrooms and stir-fry for 2 minutes. Add the ginger, garlic, chilli flakes, spring onions and beansprouts and stir-fry for another minute. Add the miso, soy and the cooked noodles. Mix well to combine then cook for a further minute.

When the 6 minutes is up on the egg, pour the hot water away, add cold water to the pan and peel the egg gently when cool enough to touch.

Season the noodles to taste and serve in a shallow bowl. Top with the egg halved and a sprinkling of chilli flakes.